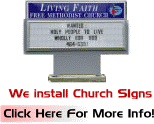 ---
Located In Albertville, Alabama, Signs & More Inc. provides a wide variety of sign-making services for the entire North Alabama area!

Importance Of Signs To Businesses

The location of your business is the key to a successful business. The keys that guide the successful selection and development of commercial properties are the visibility, accessibility, and parking. An effective on premise sign is a critical component of visibility, and required for the first impression of your business to function at its full economic potential.

The FIRST IMPRESSION of your business is YOUR SIGN. Let us help you make that first impression a good one!